Tango for beginners – group A1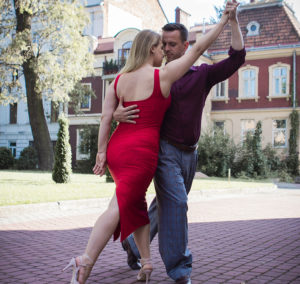 Tango course for beginners (group A1) lasts 8 classes – meetings 1 times a week.
You will learn the basic elements of Argentine tango, and above all: contact in a couple (leading / following), walking and turn techniques (giro), and basic figures (ocho, salida, sandwich, cross).
After finishing the course, you will be able to continue learning in group A2.
Why we are meeting more than once a week?
Our experience shows that students who attend classes twice a week learn to dance 4 times faster. In this case regular classes give much better results in a shorter time.
Start: 21 September  2020
When: Tuesday
Hours: 21:00 – 22.15
Price: 350 PLN – pass for 8 classes
We are enrolling in a new beginner group A1 !!! 
Zapisy
If you are here for the first time, look to our blog